VAAFA Fundraising Banquet – Honoring Our Fallen Heroes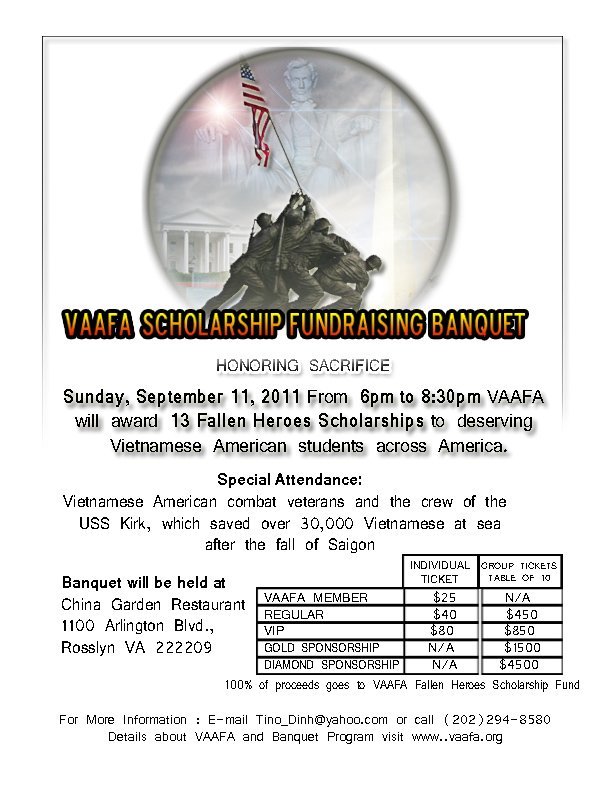 Washington, D.C. – The Vietnamese American Armed Forces Association will host its
third Annual Fundraiser Banquet Sept. 11, 2011, in Washington, D.C.  To honor
Vietnamese American military service members who gave their lives in defense of our
country and freedom during the War on Terrorism, VAAFA will award 13 Fallen Heroes
scholarships in their names to deserving Vietnamese American students across
America.  The purpose of these scholarships is to support the students' education with a
goal toward encouraging public service.
The banquet will also formally introduce VAAFA to the Washington, D.C., community,
paying special tributes to the ten-year anniversary of 9-11, Vietnamese American
combat veterans, and the crew of the USS Kirk, which saved over 30,000 Vietnamese
at sea after the fall of Saigon.
We would like to request your attendance and support to make an impactful statement
to the community, the region, and the nation.  Your presence will honor the next
generation of Vietnamese American leaders and our heroes.
Donations to VAAFA may be made by check, money order, or credit card.  Ticket
purchases and donations by credit card may be completed through VAAFA's websitewww.vaafa.org.  Checks and money order may be made to VAAFA and mailed to:
VAAFA
P. O. Box 8434
Fountain Valley, CA 92728-8434
HỘI QUÂN NHÂN MỸ GỐC VIỆT  TIỆC GÂY QUỸ – VINH   DANH  ANH HUNG  TU SI
Washington, D.C. – Vào Chủ Nhật, ngày 11 tháng 09 năm 2011, Hội Quân Nhân Mỹ
Gốc Việt (VAAFA) sẽ tổ chức một buổi tiệc gây quỹ thường niên cho Học Bổng Vinh
Danh Anh Hùng Tử Sĩ. Muc đích của 13 học bổng này là để vinh danh những anh em
chiến binh người Mỹ gốc Việt đã hy sinh dành giữ tự do và bảo vệ cho tổ quốc Hoa Kỳ
trong cuộc chiến chống khủng bố.  Hội VAAFA sẽ trao tặng học bổng cho 13 sinh viên
người Mỹ gốc Việt xứng đáng trên khắp Hoa Kỳ, để những sinh viên này có phương
tiện theo đuổi việc học với mục đích phục vụ cho cộng đồng sau khi thành đạt. Ngoài
ra, buổi lễ này cũng là dịp để chính thức giới thiệu Hội Quân Nhân Mỹ Gốc Việt
(VAAFA) với cộng đồng tại Hoa Thịnh Ðốn và các vùng phụ cận .
Ðây cũng là dịp để tưởng niệm 10 năm sau ngày đau thương 11 tháng 9, và để tri ân
những quân nhân và cựu chiến binh người Mỹ gốc Việt đã và đang chiến đấu chống
khủng bố vì bảo vệ tự do trên khắp thế giới. Hơn nữa, VAAFA cũng nhân dịp này xin
vinh danh và cám ơn thủy thủ đoàn của Khu Trục Hạm USS Kirk đã cứu giúp hơn
30,000 người Việt Nam tị nạn Cộng Sản 36 năm về trước.
Chúng tôi ân cần mời cộng đồng dành chút thời gian đến thủ đô Hoa Thịnh Ðốn để hỗ
trợ cho những lãnh đạo trẻ người Mỹ gốc Việt hiện là những tương lai cột trụ của Quốc
Gia . Sự hiện diện đông đảo của quý vị là niềm hãnh diện lớn lao cho cộng đồng người
Việt trên khắp mọi nơị .